One Day
Grand Canyon Rafting Trips
Run Rapids, hike the falls, picnic lunch
$399 per person/ $359 per child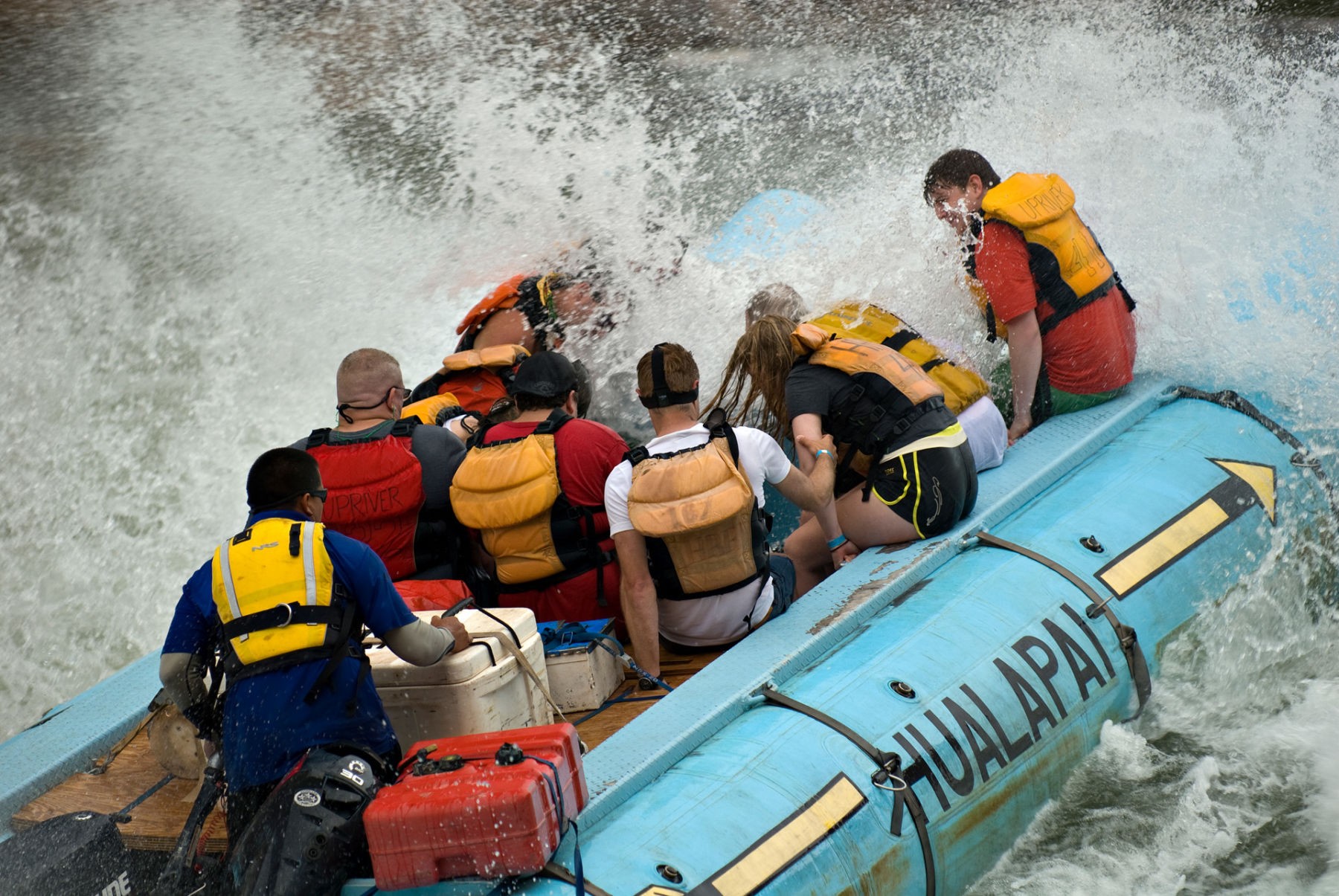 One Day
Grand Canyon Rafting Trips
Run Rapids, hike the falls, picnic lunch
$399 per person/ $359 per child
1-Day Whitewater Overview
The 1 Day Grand Canyon rafting trip is perfect for those who are short on time and want a taste of a true whitewater experience one mile deep in Grand Canyon. Run rapids on the Colorado River, hike to Travertine Falls, and eat lunch on the river – all in one day.
While on the river discover the rich traditions of the Hualapai people and raft downstream with a native guide. In addition, there is no requirement to hike in or out of the Grand Canyon. The helicopter transport is currently not scheduled to run in 2023 and will also not be possible to see the Skywalk on the day of your rafting trip.
Only One-Day Grand Canyon Rafting Trip
This is the only one day rafting trip in the Grand Canyon and the only one-day whitewater rafting trip in the area. There is a smooth water kayak float near Page, Arizona that starts and ends at Lees Ferry after floating through the end of Glen Canyon and the Black Canyon smooth water rafting trip below Lake Mead and near Las Vegas.
Longer Grand Canyon Rafting Tours
Those that are looking for more adventure can take a 2-day, 3-day or longer Grand Canyon rafting trip. Not sure which Grand Canyon trip is best for you, give us a call. We'll answer your questions and guide you through the process. Find your perfect Colorado river rafting trip.
Start Your Grand Canyon Adventure
1-Day Grand Canyon Rafting Trip Details
$399 per person (children $359)
Price Includes: all taxes and fees, transportation from the Hualapai Lodge to the Colorado River and back, picnic lunch, beverages and snacks.
(Call us about military discounts)
Minimum Age: 8 years
Meeting Place: Hualapai Lodge in Peach Springs, AZ.

Meeting Time: 7:30 a.m.
Return Time: Between 5:30 – 7:30 p.m.

Rapids: Class II-III+ depending on water levels

River Miles: 54 miles (9 miles of rapids, 45 miles of flatwater)
1-Day Grand Canyon Rafting Tour Details
---
One Day Grand Canyon Rafting Reviews
4.8 out of 5 stars (based on 44 reviews)
One Day Grand Canyon Rafting
You can check off another bucket list adventure! The one day trip was exciting and beautiful.
Unbelievable
I did the one day Grand Canyon trip on Sunday Oct 2, 2022. Sofie one of the two guides on the raft said the water was about a 7 out 10. The rapids were class 3,5 & 7. I was up front and was soaked most of the time. I loved it.
We were on the water 5.5 hrs. half was rapids and the other time was motoring looking at the canyon walls in awe. Around every bend was nature at its finest. When we stopped for Lunch Sophie called the main office on the satellite phone letting them know we were all safe. I really liked that. The bus driver was very nice and stopped multiple times on the 20 mile trip into the canyon explaining about the cactus, all the wild flowers and rocks. I was by myself as my sons flight was canceled due to the hurricane. The guides never made me feel like a fifth wheel.
I would do this trip again in a heartbeat.
Great Trip!
This was an awesome trip! This first hour or so was driving to the bottom of the canyon to the Colorado river…..unbelievable scenery. Then you get on your assigned boat….for the first half of the trip you hit rapids and they are a lot of fun….not that scary. After that you go to the waterfalls which was fun, different, very scenic. The last four hours you have a gentle ride back to the pick up spot….again scenery like most people have never witnessed. They could have spiced up the last 4 hours by allowing alcohol or making frequent stops to swim/recreate or maybe use the motor boats to get you back faster. Also, I read in reviews you might need rain gear due to the cold. We went in August….no rain gear needed….it was very warm at the bottom of the canyon. In fact don't forget the sun screen. It is a long day….we did not get back to our car until 8pm, so it was a full 12 hr day. We really enjoyed it.
Grand Canyon Rafting Day Trip Video
Smooth Rafting Options Near Grand Canyon
While this is the only 1-day whitewater rafting trip within Grand Canyon National Park, outside the park there are other full or half-day smooth water kayak trips without rapids. These trip are just upstream of Grand Canyon in Glen Canyon. There is also a rafting trip in Black Canyon near Las Vegas.
Start Planning Your Best Adventure
Dispatches from adventure tours around the world and tips for intrepid travelers. Read Our Blog
While either a Grand Canyon rafting trip or a helicopter ride over Grand Canyon would be a trip of a lifetime for many people, it is possible to do both on the same trip. Numerous Grand Canyon Rafting trips in Arizona either start or end with a 5 to 7 minute helicopter ride in or out of the canyon. Below we walk through the different trip options. These rafting trips run from mid-March through October.
While our specialty is Grand Canyon rafting, we have complied a list of 1/2 day and 1-day Grand Canyon attractions that will heighten your experience and work with your schedule! Below we have activities just outside of the South Rim, farther south near Sedona, north by Paige, Arizona and finally west near Las Vegas.