Hawai'i Seascapes – Small Ship Cruise
Explore four of the Hawaiian Islands over one week aboard a small ship cruise with a maximum of 36 passengers.
Cruise Tropical Hawai'i
Four Islands One Week
Cruising between Molokai, Lana'i, Maui, and Hawai'i, the Big Island. Talk with a local Kahuna (expert) in Molokai's ancient Halawa Valley. Then enjoy an evening pa'ina (feast) and Hawaiian jam session with Molokai locals. Hike Hualalai Volcano on the Big Island to peek into the crater explore a lava tube. Between laying on the beach and playing in the water explore isolated historic locations. Snorkel among coral looking for sea turtles, explore the coast line and its 1000 foot cliffs by sea kayak, paddle board and skiff. Visit Humpback National Marine Sanctuary on the South Shore of Maui. Search for whales, dolphins and other sea life. All while living on a new 36-guest boutique yacht.
Inclusive Experience
No hidden fees for excursions gives you the option to kayak, hike, snorkel, paddle board, or hang out onboard and enjoy the view. Daily meals are included starting with dinner the first night and ending with breakfast the last morning. the same is true for our other warm water escapes to Belize and Baja.
Hawai'i Cruise Details
Day-by-day details  for Molokai to Kona, Hawaii (*or reverse); variations may occur to maximize your experience.
Day 1 – Molokai, Hawaii* – Embark
Welcome to Hawaii! You'll be transferred to our hospitality area on Molokai. Later, the Captain and crew greet you with smiles and champagne as you board the awaiting Safari Explorer. Settle in and enjoy dinner (the first included meal of the rip) aboard the yacht, before a presentation about your week ahead.
Day 2 – Molokai
A warm Aloha spirit gives you a sense of Hawaii long ago. No stop lights, no high-rises, just a welcome slower pace. "Talk story" with locals and experience their land and traditions as few visitors ever do. You'll hear legends and lore, then take in a cultural lesson in taro patches and poi making, or hike to a towering waterfall in Halawa's cathedral valley-one of the island's most historic places. At the Molokai Museum, discover the history of this ancient homeland as you enjoy an evening paina (feast), complete with a home-style Hawaiian jam session.
Day 3 – Lanai
Gear up for a day of play on the "Private Island." Thousand foot sea cliffs line the shore and ancient volcanic plugs sit both above and below the water's surface as host to a wide diversity of marine life. Snorkel, paddle board, kayak, explore by skiff, or stretch your legs on hike-whichever activities suit your fancy. Take a stroll to ancient Hawaiian historic site. Learn about the islands plantation days and unique history.
Day 4 – Maui
Today we may snorkel among coral gardens teeming with underwater life and a known sea turtle habitat. The Humpback National Marine Sanctuary located between Lana'i, Molokai, and Maui provides front-row seats as you cruise through these productive breeding grounds searching for dolphins, whales, and other marine life. Look above and below the surface. Then stretch your legs in Lahaina for an afternoon amble through this historic town or take a leisurely beach stroll.
Day 5 – Captain's Choice Exploration
Leave it to your Captain and crew to seek out and unveil the best opportunities the islands hold in store today. Dramatic volcanic backdrops, marine life sightings, and chances for snorkeling, kayaking, and paddle boarding are all possible!
Day 6 – Kona Coast
Fringed by coconut palms, Kealakekua (more commonly known as Captain Cook Bay, the fateful location of his unlucky demise) offers a morning filled with corals, sponges, and tropical fishes all set to the tune of the rich history of the Hawaiian Dynasty of Kings. From the tiniest fish to the widest stretch of coral, it's all spectacular. Depending on weather and your mood, spend the day in the water or let us do the work, and explore the rugged coastline on a skiff ride.
Day 7 – Puu Waawaa State Wildlife Sanctuary
Active adventure guests are off to Puu Waawaa State Wildlife Sanctuary where you and a local naturalist climb the trails above the Kona coast. Head up Hualalai Volcano, then set out on a long hike up the cool and misty slopes, complete with natural history interpretation. Hike through dryland native forest and past lava tubes, and peer into a pit crater from its edge (if you're up for it, you can even go inside a lava tube). A shorter option boasts views of craters, fissures, and lava tubes.
While more relaxed guests visit with a ranger (and become a Hawaii Junior Ranger if you choose), hike the trail to petroglyphs, or check out the Kaloko fishpond and remnants of the Aiopio fish trap. Bird watch or relax on the white coral sand beach—you may spot a green sea turtle.
For your final afternoon, relax onboard or go for one last dip. Celebrate with the Captain's Dinner and a photographic recap of your adventure.
Day 8 – Hawaii, the Big Island – Disembark
As the Safari Explorer docks at Kawaihae Harbor, you'll be transferred to the Kona Airport for your return flight home. Breakfast will be the last included meal of the trip.
*For trips departing from Hawaii, the Big Island to Molokai, the itinerary will be in reverse.
Beginnings
Your trip will begin in either Kaunakakai, Hawaii on the island of Molokai where you will fly into the regional Molokai Airport or in Kawaihae Harbor on Hawaii, the Big Island where you will fly into the Kona International Airport. The first day of your trip, you will meet your fellow travelers in the outfitter's hospitality area before enjoying your first dinner aboard the yacht.
Endings
The last night on the ship, you will have a special farewell dinner, and the next morning after breakfast, you will disembark in Kawaihae Harbor on Hawaii, the Big Island or Kaunakakai, Hawaii on the island of Molokai for your return flight home.
Price Includes
All onboard meals; premium spirits, wine, and beer; non-alcoholic beverages. Exclusive transfers and baggage handling between airport/vessel on embark/disembark days. Entry fees to national parks/preserves. All adventure activities and equipment from the boat. Your vessel also has wellness offerings such as fitness equipment, yoga mats, and a complimentary massage.
Weather
The weather in Hawaii can vary depending on which island you visit, but typically Hawaii's average daytime high temperatures November – April range from 75ºF – 85ºF. Evening temperatures usually dip a little to 60ºF – 70ºF. This time of year is also the rainy season, but most of the rainfall is overnight and most showers are short-lived.
Hawaiian Islands
Made up of the exposed peaks of a great undersea mountain range formed by volcanic activity, the Hawaiian Islands are known for their natural beauty and tranquil culture. This yacht trip is more than just taking in the scenery; you will learn about the rich traditions of native Hawaiians; paddleboard or kayak near thousand-foot sea cliffs; and snorkel among coral gardens and sea turtle habitat. Experience the spirit of Aloha woven throughout all your travels.
Group Size
This is a small-scale cruise and your vessel will have a maximum number of 36 guests and a generous guest to guide ratio of 2 guests for each crew member. You will have plenty of opportunities to learn about the landscape, ecology, and culture of the area, as well as have expert instruction for all your adventure activities.
The Boat
Meet the Safari Explorer – a spacious boutique yacht with 18 guest cabins that offers ample vantage points for taking in the sights and relaxing. The ship carries all the adventure equipment for guests including kayaks, paddleboards, inflatable skiffs, hiking poles, and snorkel equipment. All cabins are equipped with a TV and DVD, iPod docking station, private bath, view windows, and generous closet space. Your vessel includes an intimate wine library, salon, and inviting dining room to sit back and relax. The vessel also comes equipped with fitness equipment, yoga mats, and a complimentary massage for you to enjoy.
Meals
You can look forward to a delicious daily menu filled with meals designed to reflect the flavors of Hawaii including locally sourced ingredients when possible. For breakfast – you can choose from an early riser breakfast with fresh baked pastries and fruit or a full breakfast with hot, cold, and specialty dishes. For lunch – you will find a range of salads, sandwiches, and homemade soups. During happy hour – enjoy a cocktail and hors d'oeuvres in the lounge. Dinner – choose from several entrées including fresh, local seafood and meats or a vegetarian dish with a chef-selected wine pairing and be sure to leave room for an indulgent dessert, such as tiramisu.
Full Schedule
This expedition cruise consists of a flexible, fun, and full itinerary. Your days will be filled from the moment you wake until you retire to your cabin with chances for group meals, off-ship outings, and presentations in the evening. Choose to participate in the activities and presentations each day or sit them out, but one thing is for sure, this cruise will keep you moving!
Adventure Specialists
We've been connecting our clients to water adventures around the world since 1987. We partner with select outfitters who share our values and are pros at creating exceptional experiences. There is no fee for our service; we earn our commission from the outfitters we represent, and the cost of your expedition is the same as booking direct.
Choose Your Adventure
Sea Kayaking Tours
Our sea kayaking adventures explore remote territory in Baja, British Columbia, and Belize.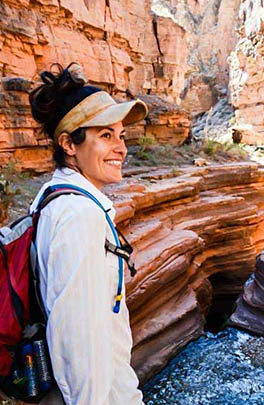 Custom Expeditions
Adventure connects people. We can customize your adventure from start to finish. CALL US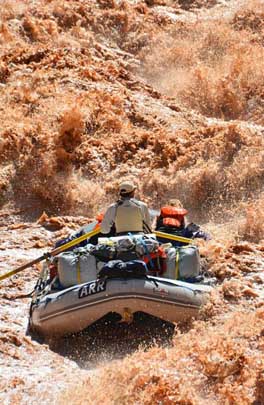 Grand Canyon Trips
Experience America's great adventure. Spend 3 to 18 days rafting the Colorado River.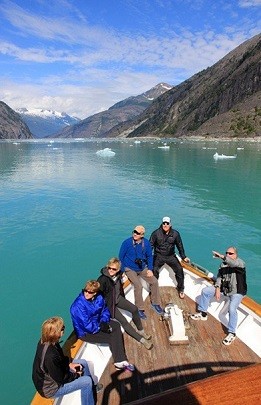 Small Ship Cruises
Check out our all-inclusive small boat expeditions to Alaska, Baja, Hawaii, Antarctica and Galapagos.