Desolation Canyon Rafting
Raft 84 miles through Utah's Desolation Canyon on the Green River and run class II-III rapids in a beautiful desert setting.
Desolation Canyon Rafting
Chief tributary of the Colorado River, the Green River was first run as a part of John Wesley Powell's famous expedition to map the Grand Canyon in the 1860's. These days rafting and inflatable kayaking 84 miles of the Green River through Desolation Canyon provides a perfect family trip offering fun rapids, beautiful side streams, and big sandy beaches.
Winding through a dramatic landscape the river offers rafters a chance to experience 40 million years of geologic history. The Green River cut 5,000 feet down into the Tavaputs Plateau to form Desolation Canyon. This makes an impressive view during the 45 minute flight to put-in. Stops along the river provide opportunities to hike to ancient Native American art, infamous outlaw hideouts and glimpse the West's homesteading days. While known for its scenic rock formations, Desolation Canyon contains plenty of interesting flora and fauna including: yucca, cacti, wildflowers, mule deer, desert bighorn sheep, and desert birds.
The cool water temperature provides a refreshing experience when swimming on summer days. Rapids build over the course of the trip with most of the biggest rapids (Cow Swim, Wire Fence, Three Fords)  in the later half of the trip.
$1,299 - $1,399 per person
Length: 6 days/84 miles
Price: $1,299 – $1,399 per person
Optional Rentals: sleeping bag + pad ($40/person), 2-person tent ($40/tent)
Season: May – September
Min. Age: 5 years during Low Water Level; 12 years during High Water Level
Activity: Class II-III Whitewater Rafting and Inflatable Kayaking
Meeting Place: Green River, Utah
Ending Place: Green River, Utah
Desolation Canyon Rafting Details
Pre-trip Meeting
Meet at 8:00 pm the evening before the trip in Green River, Utah at the at the River Terrace Motel. During the pre-trip meeting, the guides will distribute dry bags for packing your gear, review trip and shuttle information, and answer last-minute questions. It is not necessary to stay at the River Terrace Motel.
Launch Day
At the time designated during the pre-trip meeting, small planes transport the group 45 minutes from the Green River Airport to the put-in site at Sand Wash. A short walk or ride by van from the landing strip gets you to the river. After a safety and orientation briefing, you will launch on your Desolation Canyon Rafting trip. There will be calm water for the first day to camp giving everyone time to get accustom to the rafts and inflatable kayaks.
It's Your Adventure - Let Us Help You Make It Happen
Reserve Online
Ready to go?
Reserve space now!
*** Our service is free to you and paid for by our partner outfitters. We guarantee the same price as booking directly with the outfitter.
Days 2-5
A hearty breakfast and fresh coffee get each day started on the river before packing your dry bags and loading into the rafts. Desolation trips typically float 12 to 18 miles over 4-5 hours with multiple stops to visit historic sites, take short walks, scout rapids and partake in a riverside lunch. Rapids increase in frequency and intensity over days 2 and 3 with the biggest rapids on days 4 and 5. Once at camp in the late afternoon there is plenty of time to swim, hike and relax.
Last Day
The last morning contains a few mellow rapids and a lunch stop. From take-out at Swaysey's boat ramp, a short van ride gets you to the River Terrace Motel in Green River around 3 pm.
Price Includes
All the group camping and river-related safety equipment is included along with plenty of fresh food and snacks starting with lunch on the first day through lunch on the last day. There will be plenty of water but if you would like soda, beer, wine, or liquor with your dinner, please bring your own (beer and soda in cans; wine in boxes or bags; hard liquor in plastic bottles).
You are expected to supply your own camping and sleep gear. However, you can also rent tents, pads, and sleeping bags for the trip (prices can be seen in the facts above). The price also includes the flight from Green River to the put-in point, and transportation from the take-out point back to the motel.
Gratuities
Guides appreciate gratuities for their efforts. Typically, tips are around 10% to 15% of the trip cost and can be given to the head guide to be evenly distributed among the crew. That being said, the choice to tip is yours and depends upon your feelings about the trip and tipping in general as well as your financial means.
What to Expect
Making the most of your trip
We find people have the most fun when they are flexible. Rafting trips provide an adventure with the guides continually adjusting the plans to make the most of each day as it is presented. It can be nice to leave your watch behind.
Weather
Cooler May temperatures (average high 84°F, low 50°F) require extra layers, but allow for longer hikes. Temperatures range from 95-100°F in Utah's hottest months of June through August. As the rafting season winds down in September, you can expect cooler weather with highs averaging 89°F and lows around 53°F.
Boats & Group Size
Your main forms of transport will be oar rafts, a paddle boat, and inflatable kayaks for those who wish for a more interactive experience. Oar powered rafts are about 18 feet long and carry three guests plus the guide, who maneuvers the raft with a set of oars mounted on the raft. Normally three to five boats travel together, and group sizes can be up to 25 guests, maximum.
The paddle raft is 14 feet long and carries six people plus a guide. Each person is responsible for paddling as a guide calls out the paddling commands. When water levels are suitable, single, and two-person kayaks let you challenge the rapids on your own terms. Please note that space in a paddle raft or inflatable kayaks is not guaranteed. If more people wish to ride in these boats than there are spaces, paddlers will rotate so that everyone gets a chance to participate.
Camp Life
Whether you're an experienced camper or it's your first time under the stars, river camping is an enjoyable and relaxing camping experience. Everyone participates in setting up and breaking down camp. A clean, private camp toilet is set up first thing upon arrival at camp and it is the last thing to be dismantled the next morning.
Meals
There will be plenty of healthy tasty food on the trip. A full breakfast with cowboy coffee gets the day going. A riverside picnic sets the scene for lunch. Dinners can be anything from a steak, grilled filet of salmon, or a Mexican feast and may be followed by a hot, Dutch oven dessert. There are plenty of snacks and water available throughout the day. Alcoholic beverages are not included, but you are welcome to bring your own. When signing up for the trip you will have an opportunity to share any special dietary requirements.
Packing for your trip
You will be provided with a suggested packing list after signing up for the trip. The key equipment is good river footwear and clothing that protects you from the rain and the sun. While rain rarely falls in the summer, proper rain gear will make it a much more joyful experience if it does. Here are some rain gear, footwear, and other clothing options we recommend.
Fishing
Fishing in the Green River is not that good. However there are two side-streams, Ranch Creek and Range Creek, where trips may stop providing an opportunity to fish for small trout. A Utah fishing license can be purchased online. Anglers must use artificial lures and flies only. Please bring your rod in a sturdy case.
Getting There and Away
Flying
It is possible to fly to Grand Junction, Colorado about 100 miles east of Green River. From Grand Junction to Green River it is possible to rent a car or charter a flight with Redtail Aviation. The motels in Green River can help with transportation from the airport.
Choose Your Adventure
Sea Kayaking Tours
Our sea kayaking adventures explore remote territory in Baja, British Columbia, and Belize.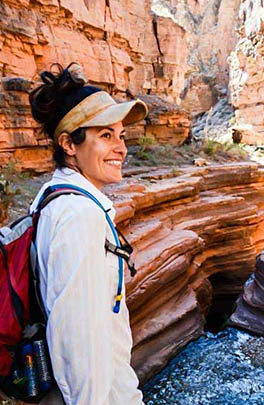 Custom Expeditions
Adventure connects people. We can customize your adventure from start to finish. CALL US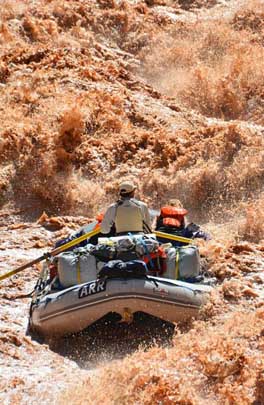 Grand Canyon Trips
Experience America's great adventure. Spend 3 to 18 days rafting the Colorado River.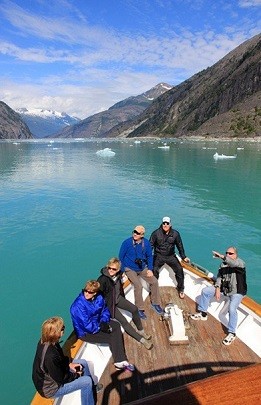 Small Ship Cruises
Check out our all-inclusive small boat expeditions to Alaska, Baja, Hawaii, Antarctica and Galapagos.