Rivers & Oceans Media
Learn more about Rivers & Oceans by where we show up in the media. While we are proud of the fun, group centered trips we run, it is only a part of what we do. We are privileged to be involved with river and wilderness conservation and the indigenous communities of the Grand Canyon river corridor. Most of the trips discussed below are our Rivers & Oceans Custom Adventures (ROCA) on the Colorado River. If you have media questions or need photos, please message Robby on our contact page.
For those wanting to read more about the history of Rivers & Oceans see our About page. And this blog post about our founders Pam and Tim Whitney.
Press and Articles

New York Times
Rafting Through the Grand Canyon in Vintage Style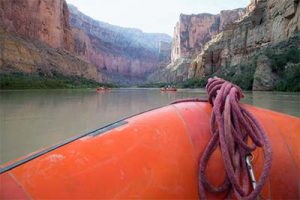 Arizona Daily Sun
Rivers & Oceans: Creating the Perfect Adventure

High Country News
On the Road to 50: A grand beginning

Hana Hou!
Hawaiian Airlines Magazine
Advocate Magazine
Grand Canyon Trust
Colorado River Trip Inspires….
National Public Radio
For White-Water Guides, The Thrill Is Never Gone
New York Times
Q/A