Horseshoe Bend Kayaking & Paddleboarding
Kayak or Paddleboard the Colorado River
Experience Horseshoe Bend and Glen Canyon
1/2, 1 or 2-day Smooth Water Floats
Colorado River Kayaking
See Horseshoe Bend from the bottom as few people do. Paddle through Glen Canyon down the Colorado River in a rental kayak, rental paddleboard or bring your own craft. Initially, travel upstream in a 22-ft Hurricane motorboat specially-designed to haul you and kayaks upriver (called a backhaul). See the Glen Canyon and Horseshoe Bend twice. First on the backhaul up the Colorado River and then again as you paddle downstream at your own pace to the take-out where you started.
Best Smooth Water Float near Grand Canyon
For those looking for a smooth water float in the Grand Canyon, a flatwater trip just upstream in Glen Canyon provides by far the best option. This budget friendly trip meets at an easy to access location with simple trip logistics and mind-blowing views. Anglers enjoy the Colorado River's world class fishing. Kids love the ancient rock art petroglyphs and beaches.
Length of Horseshoe Bend Kayaking Trips
People take 1/2, 1 or 2-days to kayak and paddleboard some or all of the 15 miles from Glen Canyon Dam to Lees Ferry where Grand Canyon rafting trips begin. Plan on taking at least 7 to 8 hours to paddle the entire length of Horseshoe Bend.
River Stops / Hiking
During the day, you can stop to stretch your legs and explore the canyon. Many beautiful beaches line the river. For those that want more adventure, hike up the Water Holes slot canyon 4 miles upstream from Lees Ferry. In addition people hike 2 miles up Falls Canyon which is 2 miles from Lees Ferry. These hikes take place on stream beads without maintained trails making quality footwear a necessity.
River Camping
Choose to spend the night at campsites with composting toilets and fire rings. The XL kayaks work best for transporting gear for people looking to do an overnight trip. Just pay to rent your kayak or paddleboard for an additional day. For those flying into the area, nearby Powell Outdoor Gear Rental rents camping gear.
Family Paddles
One of our most popular trips for families of all ages, parents with younger kids (5+) rent a double (tandem) kayak and paddle with a child through Horseshoe Bend. Kids over 12 can paddle their own boats,
$75 - $130 per person
Includes: backhaul water taxi from Lees Ferry upstream. Kayak or paddle board rental with lifejacket and paddle. Boat captain shares stopping points, safety suggestions and entertaining stories.
Optional: Bring your own gear and pay only $75 per person for the backhaul (size limits apply); $50 surcharge per person for watercraft, luggage and gear exceeding 100 pounds.
Season: March through October
Flatwater: no rapids or whitewater
Length: 15.5 river miles
Minimum Age: 5 years; 12 & under must ride with an adult in a tandem or XL kayak.
Meeting Place: Lees Ferry, AZ
Launches: 6 am, 8 am, 10 am
Returns: By 5:30 pm
***Please note, it is expected that you end your day by 5:30 pm.
Time Zone: Most of Arizona does not observe daylight savings time. In the summer it is Pacific Time and in the winter, Mountain Time.
Glen Canyon Kayaking Details
This self-lead trip requires minimal personal gear with the outfitter providing kayaks and paddleboards for rent along with the backhaul (water taxi) service. The taxi transports rented and privately owned watercraft upstream after meeting at the Lees Ferry launch ramp. Departures leave daily between 6 AM to 10 AM (depending on the season).
Horseshoe Bend Kayaking Video
While you can get dropped off any distance above the Lees Ferry, most people choose to start at Petroglyph Beach just upstream of Horseshoe Bend, creating a paddle adventure that usually takes 4 to 5 hours. For the longer 7 to 8 hour day, get dropped off the maximum 15.5 miles upstream at the base of Glen Canyon Dam below Lake Powell. No matter where you launch, you get a flat-water paddle suitable for any skill level.
Taxi Motorboat & Captain
The specially modified 23-foot Hurricane motorboat carries up to 6 passengers and kayaks from Lees Ferry upriver to drop off points. During the backhaul up canyon, the captain points our key spots as well as shares some interesting nuggets of local knowledge.
The backhaul requires a minimum of 2 passengers to run. Typically many paddlers go each day during the summer but sometimes singles need to switch launch times to have enough passengers.
Rentals
By itself the backhaul costs $75 per person. Horseshoe Bend kayak and paddleboard rentals range between $35 to $55 per day (includes lifejacket and paddle). Rentals are only available for those using the backhaul service.
Single Inflatable $35
Single Inflatable XL Kayak $45
Tandem Inflatable $55
Paddleboard $40
(includes paddles & PFDs)
See rental kayak and paddle board images and descriptions.
Bring your own Craft & Camping
Feel free to bring your own kayak or paddleboard as long as it is under 14 feet. It will be carried as part of the $75 backhaul fee. The weight of each passenger's boat and gear must be less than 100 lbs. Expect a $50 surcharge per person for watercraft, luggage and gear exceeding 100 pounds. River campers must go minimalist, backpacking style to meet the weight requirements. If you are bringing your own craft you must also bring an appropriate lifejacket.
For those with non-conventional boats under 14 feet other than a kayak or paddleboard please call us to confirm that your craft can be hauled and is appropriate for the trip.
Age Limits
Children 12 and under must be on a Tandem or XL kayak with an adult. This activity is not recommended for children under 5 years old or people who are not physically fit. There is no discount for children.
Wilderness Experience
While at times motor boats will be coming  by and it will seem busy, other times there will be no other boats or people in view on the river. Be prepared for weather, accidents and medical emergencies. Carry a lighter or matches, flashlight, change of clothing, rain jacket, cell phone, whistle, medications, extra food and water. If you have an allergy to ant bites, bee or wasp stings be sure to bring Benadryl or an epi-pen. An adequate first aid kit is always a good idea. Ideally, all this gear packs in a water tight bag. See our detailed packing list.
River Bathrooms
Urination during the day when not near a port-a-john takes place in the river or wet sand next to the river per Glen Canyon Recreation Area regulations. The National Park Service maintains composting toilets along this stretch at popular stops and all campsites.
It's Your Adventure - Let Us Help You Make It Happen
Reserve Online
Ready to go?
Reserve space now!
*** Our service is free to you and paid for by our partner outfitters. We guarantee the same price as booking directly with the outfitter.
Getting to Lees Ferry, Arizona
Drive times to Lees Ferry from neighboring cities are as follows:
Page, AZ (Lake Powell): 50 minutes, 45 miles
Grand Canyon South Rim, AZ: 2.5 hours, 130 miles
Flagstaff, AZ: 2.25 hours, 129 miles
Sedona, AZ: 3 hours, 158 miles
Bryce Canyon, UT: 3 hours, 160 miles
Zion National Park, UT: 2.75 hours, 145 miles
Las Vegas, NV: 4.5 hours, 268 miles
We recommend staying at the Cliff Dwellers Lodge the night before (more information below) as the day can begin early.
WHERE TO STAY
Cliff Dwellers Lodge
We recommend the Cliff Dwellers Lodge the night before and/or the night you get off the water so you can maximize your time in the area. The lodge varies by season, expect around $120 to $150 per night for one of their 1 to 2 person rooms. Current rates can be seen on the booking page. The lodge restaurant is open every day. Their menu offers hearty breakfasts, burgers, steaks, BBQ, specialty sandwiches and other delicious dishes.
Breakfast 6:00 AM – 11:00 AM
Lunch 10:30 AM – 5:00 PM
Dinner 5:00 PM – 9:00 PM
*Hours fluctuate by season
Discounted Rates
The lodge provides a 10% discounted rate to paddlers using the backhaul service. The rate varies throughout the season and can be seen through our online booking portal by selecting a desired date.
Your lodging reservation can be cancelled up to 3 business days before your check-in date in order to receive a refund. Cancellations within 3 business days of your check-in date cannot be refunded.
Please know that the Cliff Dwellers Lodge has limited space. If you cannot secure a room there are other lodging options nearby.
Weather
Typical Glen Canyon and Grand Canyon weather patterns:
March, April and May have cooler temperatures and can bring strong winds.
June through August are the hottest months with temperatures between 95°F – 115°F.
Monsoon season, July thru September, brings afternoon clouds and rain showers.
September and October have cooler temperatures.
We have additional information about variations in the river during the rafting season.
Windy Season: Paddling in March or April
While it can get windy anytime of year, spring time produces days with strong up canyon breezes causing the outfitter to cancel trips. Typically the weather service will know about the pending winds 4 or 5 days in advance and you will be contacted by the outfitter if they believe it is necessary to cancel your trip.
If the wind causes your trip to cancel, you will be given the opportunity to reschedule or you have the option of a full refund.
Water Temperature/Flows
The Colorado River water is around 50°F – 68°F year round.  Going for a swim can be refreshing on hot summer days. The Colorado River flows vary throughout the day due to releases from Glen Canyon Dam. During the summer flows range between 9000 and 16000 cfs (cubic feet per second). See our page with Colorado River flows and temperatures.
What to Bring Rafting
We provide a detailed packing list once you book your trip.  No matter what time of year, we highly recommend you bring waterproof rain gear (jacket and pants) to protect you from potential rain and wind. There will be times when you're in the shade and if you're wet – even in the summer – it can get uncomfortable.
For spring or fall rafting you'll want to bring layers to keep warm. Sun protection is a must as you'll be spending a long day out in the Arizona sun.  We have more gear information here (please note this gear is for all river trips and is not specific to the 1 day trip).
Payment and Cancellation Policies
Online booking requires a 10% non refundable deposit. The trip will be charged in full 14 days prior to the trip date and is non-refundable unless canceled for weather or safety concerns by the outfitter.
Seeing Horseshoe Bend from the Top
Before or after your trip take a detour to Mile Marker 545 on Highway 89 just outside Page, Arizona. After a 3/4 of a mile walk from the Horseshoe Bend overlook parking area, enjoy a dramatic view of the 1000 foot drop into Horseshoe Bend from the top. Tennis shoes or hiking boots work best for the hike and bring some water. Be warned there are no guard rails at the overlook.
DROUGHT AND THE COLORADO RIVER
Lake Powell lies just upstream of Glen Canyon and Grand Canyon. Glen Canyon Dam releases water down the Colorado River through Grand Canyon to Lake Mead for use by Las Vegas, Phoenix and California. Even in drought years, this will provide boatable flows for the entire season (March-October). Read our article about how drought is affecting rafting in the west.
Choose the Best Trip for Your Group
Grand Canyon
1-Day Trip
One amazing day. Single-day rafting trips include whitewater, hiking, lunch & helicopter option.
Grand Canyon
Helicopters
See Grand Canyon from above. Helicopter tours leave from South Rim, Las Vegas and Page, AZ.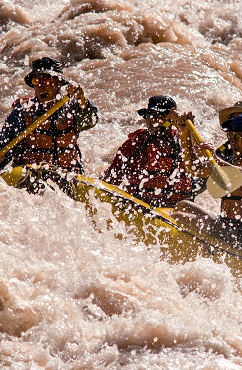 Grand Canyon Multi-Day Trips
Experience America's great adventure. Spend 3 to 18 days rafting this amazing stretch of river.
Custom &
Charter Tours
Adventure connects people. We customize your adventure from start to finish. Call Us