Is the One or Two Day
Grand Canyon Rafting Trip Better?
One and two-day Grand Canyon rafting trips both provide an excellent experience with fun rapids, hiking, and scenic views. In this post we break down the major differences between the two trips.
One day or Two days: Which Colorado River Rafting trip in Grand Canyon is better?
The one or two day can be the best trip depending upon two factors. If you want to paddle, the two-day Grand Canyon rafting trip requires everyone to paddle. While the 1-day Grand Canyon motorized rafting trip has no paddling. Secondly, the two-day trip allows you to camp out in the Grand Canyon under the stars for a night but the one-day trip does not.
1-day and 2-day Rafting Videos
Trip Similarities
Both trips absolutely provide you with that magical, white water, Grand Canyon rafting, bucket list experience:
Depart from Peach Springs, AZ, on Route 66, the setting that inspired the town of Radiator Springs in the Pixar Film Cars.
Transportation to/from Las Vegas can be provided – let us know and we'll get you a quote.
Visit the Hualapai Indian Reservation. Your trip will be guided by the Hualapai River Runners, who share a rich history within the Canyon and still call it home.
Raft 35 miles of the Colorado River from Diamond Creek to Quartermaster Canyon.
Visit Travertine Grotto for a stunning hike with waterfalls and perfect photo opportunities.
The short helicopter ride to the rim has beautiful views! This is an add-on to both trips.
Optional: add a visit to the famous Grand Canyon Skywalk, where you can step out onto a glass walkway nearly 4,000 feet above the Grand Canyon. Eep!
Plenty of meals, snacks, and non-alcoholic beverages for everyone.
Three reasons to consider a one-day trip
The age minimum is 8 years, rather than 12 years for a two-day trip — making this is a good option for younger kids.
Availability! The one-day rafting trips run seven days each week, from March 15 through October 31. The two-day trips operate only on the weekends, meaning you may need more advance planning if you'd like to spend the night in the Grand Canyon.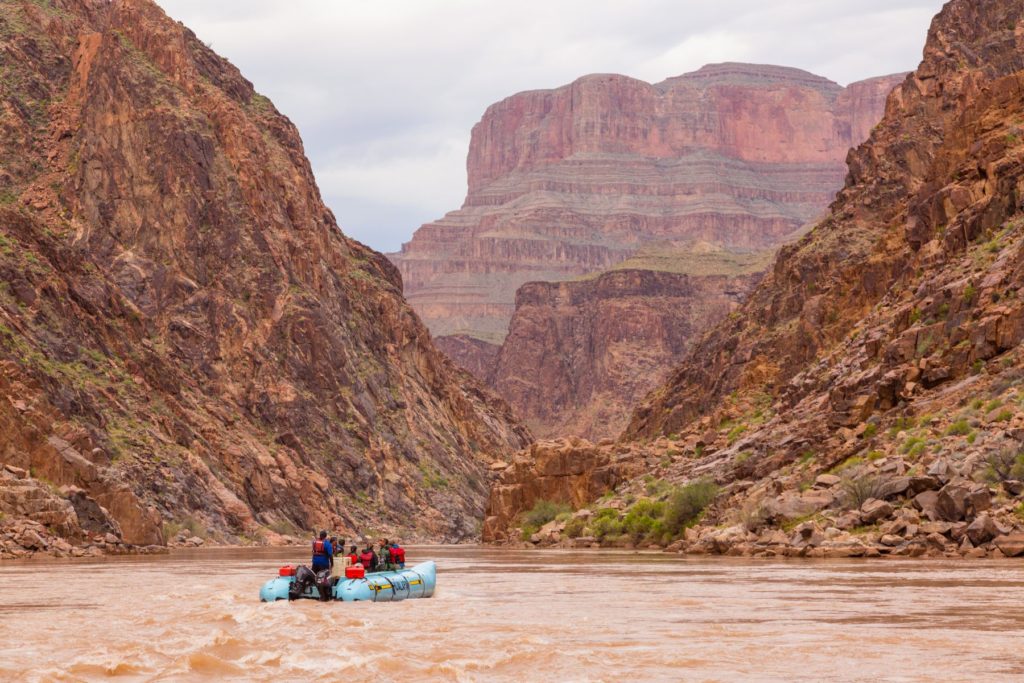 Are you ready for adventure? Everything else you need to know about these incredible experiences, can be found here:
One-day Grand Canyon Whitewater motor trip
Two-day Grand Canyon Paddle Rafting trip
Consider reading about our favorite rafting tours through Grand Canyon.
Or, just call one of our friendly adventure travel experts! We can guide you through the entire trip planning, whether you come in from Las Vegas, or within Arizona, including discounted lodging options before and after your once-in-a-lifetime trip rafting the Grand Canyon.
Rivers and Oceans also provides you with a complete packing list and other details so everyone is totally prepared to enjoy the adventure. With more than 30 years of experience organizing Grand Canyon river rafting trips, one call can do it all!
Are you ready to raft? Give us a call at (928) 526-4575 or email us.