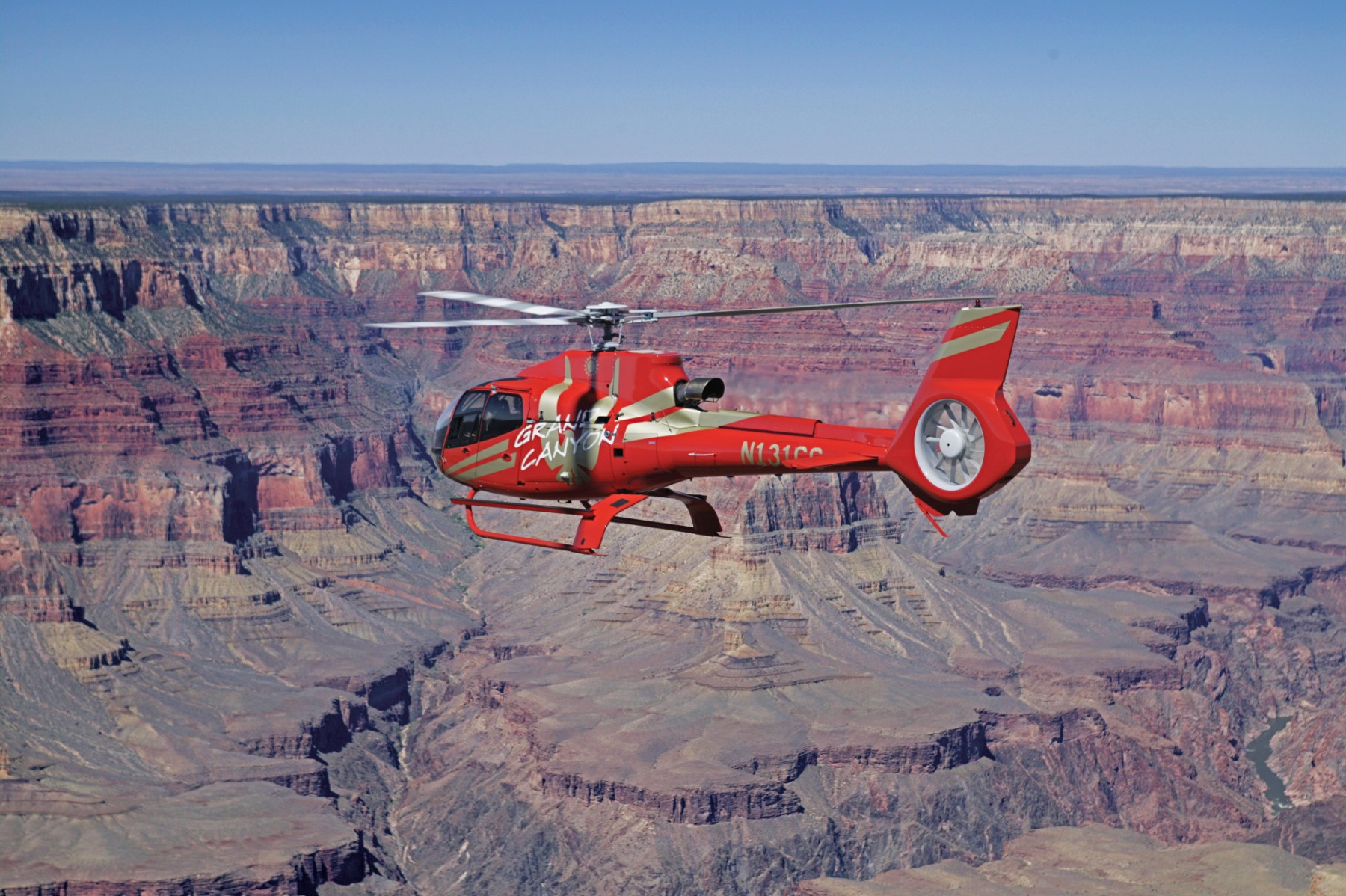 Grand Canyon National Park
Helicopter Tours
Grand Canyon helicopter tours offer a unique and unforgettable experience that belongs on your bucket list. This guide takes a closer look at the aerial tour options for Grand Canyon National Park, including flights from Las Vegas, the South Rim, and Page, Arizona. We'll also discuss affordability of the tour options to help you choose the perfect one for your budget and preferences.
Cheapest Grand Canyon Helicopter Tours
If you're looking for a budget-friendly option, scenic helicopter tours and plane flights above the canyon operate year-round from a landing strip 5 minutes outside the South Rim. One of the most popular and cheapest helicopter tours, the North Canyon Tour, lasts between 25 and 30 minutes and starts at $229 per person. This tour takes you over the deepest and widest part of the Grand Canyon which provides breathtaking views of the rugged landscape.
However, an even less expensive option is the South Rim Grand Canyon Airplane Tour, which starts at $169 for a 40 to 45 minute flight. These tours are perfect to see the Grand Canyon from the air but don't require the budget of the shorter, more expensive helicopter tour. Read about all the helicopter and airplane tour options from the South Rim.
Helicopter Flights Near Page, AZ and Lake Powell
Meeting in Page, Arizona, these helicopter tours fly over Lake Powell and Horseshoe Bend, a dramatic section of Glen Canyon just upstream of Grand Canyon. One of our favorite trips is the 30 to 35 minute Horseshoe Bend airplane tour ($129).
Additionally, the 45 to 60 minute Tower Butte Helicopter Tour ($259) flies out from Page. Land on top of a butte on the Navajo Nation while getting to view Horseshoe Bend from the air. See all aerial tours from Page Arizona.
Grand Canyon Helicopter and Plane Tours
from Las Vegas
Many helicopter (and fixed-wing) tours of Grand Canyon start and end in Las Vegas. Popular tours include Grand Canyon and Lake Mead like the 70 minute airplane flight ($229) and 70 minute helicopter ride ($379). Trips include roundtrip transportation between all major Las Vegas hotels and the air terminal. Both trips are around 4 hours hotel-to-hotel. You can check out all aerial tours of Grand Canyon from Las Vegas. Another favorite is the Grand Canyon 4-in-1 helicopter tour which includes a bus, airplane, helicopter, and pontoon boat ride.
Grand Canyon National Park Helicopter Video
Video of flight from Las Vegas going over Hoover Dam, Lake Mead and landing in the Grand Canyon in Arizona. This is the Grand Celebration Tour.
Concluding Thoughts on Arizona Helicopter Tours
Arizona helicopter tours provide a unique, unforgettable view of Grand Canyon National Park. Conveniently, these trips run year-round. In addition, there Grand Canyon rafting trips with helicopter rides in or out of the canyon to start or end your trip. Rafting trips run from mid-March through October.
Not sure about helicoptering, check out our traditional Grand Canyon rafting trips. Finally, for other activities in the area, check out Christina's article about popular attractions near Grand Canyon National Park.