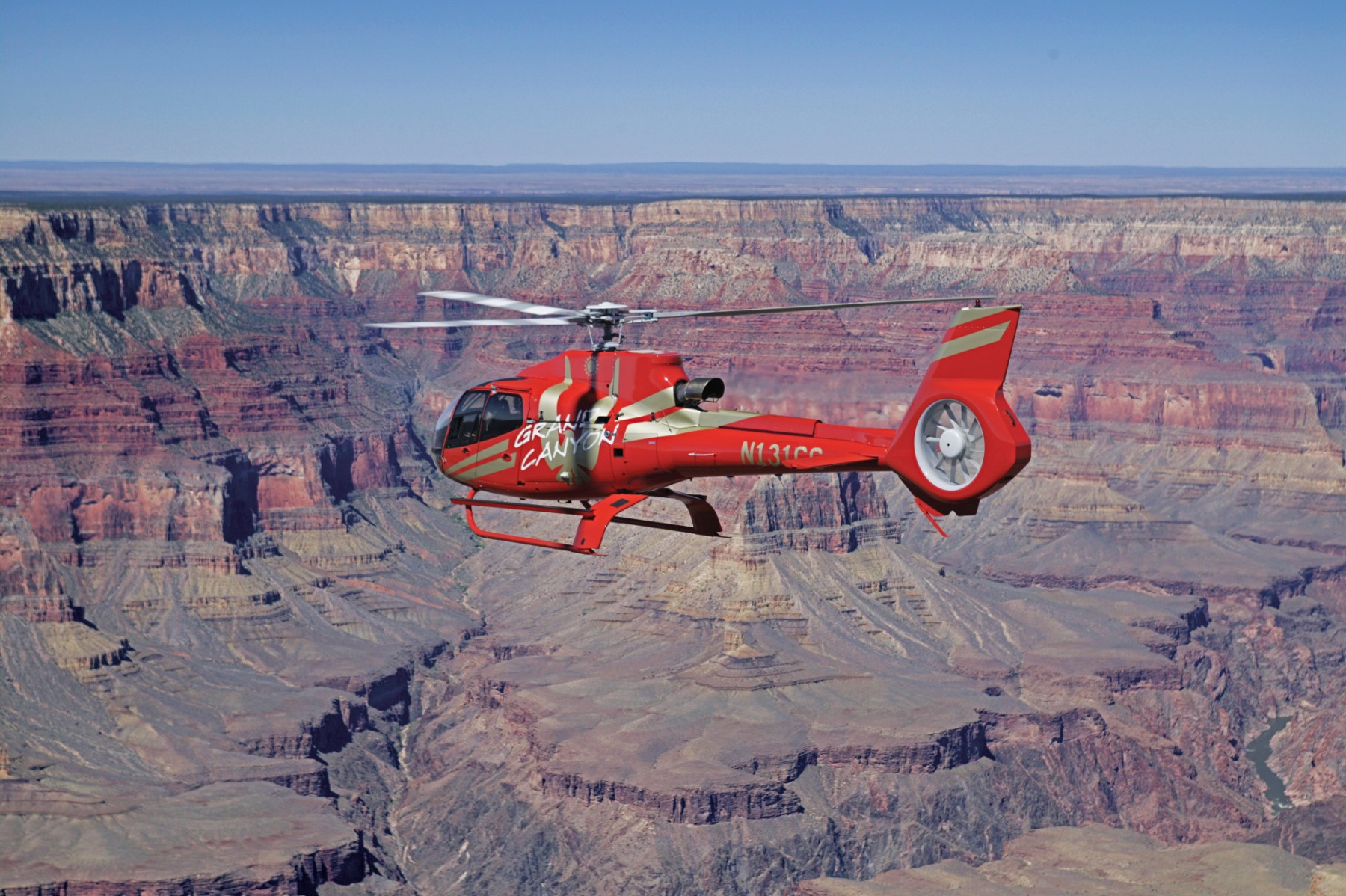 Grand Canyon National Park
Helicopter Tours
Many people inquire about helicopter tours of Grand Canyon. In this post we break down aerial tour options for Grand Canyon National Park. Flights start in Las Vegas, the South Rim of Grand Canyon and Page, Arizona. These trips run year-round. In addition, there are 1 to 7-day Grand Canyon rafting trips with helicopter rides in or out of the canyon to start or end your trip. Rafting trips run from mid-March through October.
Helicopter Tours, South Rim Grand Canyon
About 5 minutes from the Entrance of the South Rim, Papillon Helicopters offers scenic helicopter tours and plane flights above the canyon. The most popular helicopter trip, North Canyon Tour, lasts between 25 and 30 minutes with prices starting at $229 per person. Read about all the helicopter and airplane tours options from the South Rim on the Papillon website.
Helicopter Flights Near Page, AZ and Lake Powell
Meeting in Page, Arizona, these helicopter tours fly over Lake Powell and Horseshoe Bend. Horseshoe Bend is a dramatic section of Glen Canyon just upstream of Grand Canyon. Favorite trips from Page are the 30 to 35 minute Horseshoe Bend airplane tour ($129) and the 45 to minute Tower Butte Helicopter Tour ($259) on the Navajo Nation. The Tower Butte Tour lands on top of a butte and flies over Horseshoe Bend. See all aerial tours from Page Arizona.
Grand Canyon Helicopter and Plane Tours
from Las Vegas
Many helicopter tours of Grand Canyon start and end in Las Vegas. The shortest of these tours is 3 1/2 hours. Popular tours over Grand Canyon and Lake Mead include the 70 minute airplane flight ($229) and the 70 minute helicopter ride($379). Trips include roundtrip transportation between all major Las Vegas hotels and the air terminal. Both trips are around 4 hours hotel-to-hotel. You can also check out all aerial tours of Grand Canyon from Las Vegas. Another favorite is the Grand Canyon 4-in-1 helicopter tour which includes a bus, airplane, helicopter, and pontoon boat ride.
Grand Canyon National Park Helicopter Video
Video of tour from Las Vegas that flies over Hoover Dam, Lake Mead and lands in the Grand Canyon in Arizona. This is the Grand Celebration Tour.
Concluding Thoughts on Arizona Helicopter Tours
Arizona helicopter tours provide a unique, unforgettable view of Grand Canyon National Park. However, the view while rafting at the bottom of the canyon is just as impressive. Looking for other activities in the area, check out Christina's article about popular attractions near Grand Canyon National Park.