Family Whitewater Rafting Trips
In this article, we'll explore what makes family whitewater rafting trips special, provide tips for planning a successful excursion, and highlight some of the most popular family whitewater rafting trips.
Why Choose a Family Whitewater Rafting Trip?
Whitewater rafting trips make for an outstanding family vacations. They provide an opportunity to spend quality time away the normal stresses of everyday life. Camping and rafting for 4 or more days really allows families to unwind while enjoying nature and getting some exercise. Many parents are surprised how their kids don't miss their electronic devices while on the river.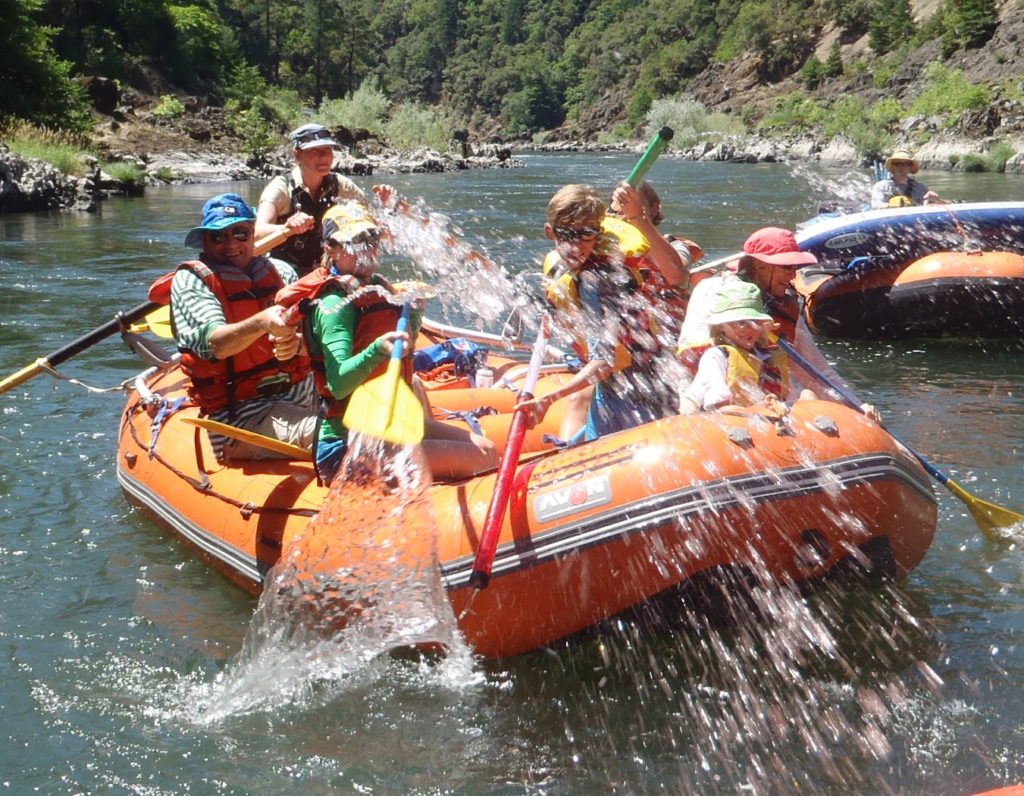 Family Whitewater Rafting Trips for Different Skill Levels
One of the best aspects of family whitewater rafting trips is that they can be tailored to different skill levels. Trips range from mild to wild, so you can choose an adventure that's appropriate for your family's experience level. Even young children can participate in a gentle float down a river, while older children and adults may be ready for more challenging rapids.
The trips below are broken down by minimum age and level of adventure. Many of the rafting trips that work for young kids still provide a higher level of adventure for older kids and adults by allowing river runners to control their path in inflatable kayaks (also called duckies).
For families with younger kids we also emphasize trips that have less miles and more stops to play and explore. Trips that have milder, warmer temperatures also work better for younger kids.
Best Rafting Trip for Families – Rogue River 4-Day Rafting & Camping Trip
Outfitters rafting the Rogue River bring inflatable kayaks, paddle rafts and oar rafts on summer time trips allowing for a wide range of activity. The water temperature is nice for swimming and splashy rapids that are general not scary. For the one bigger rapid – Blossom Bar, outfitters will have younger kids and timid rafters walk around.
One of the original 8 Wild and Scenic Rivers, the Rogue River provides world-class camping and views. Plus the wildlife in the area is fairly habituated to humans so it is common to see deer, otters and bears while on a trip that are rare sittings on other rivers. In addition plenty of birds live in the Rogue Canyon. Guide love working these trips because it is easy for everyone, no matter if they are 8 or 80 years-old to have fun.
The biggest challenge is getting there. The flying into, Medford, the closest airport requires an additional 20 to 30 minute drive of the meeting location. The Rogue is an easy destination for people driving from Portland, Seattle, or the Bay Area.
Idaho's Best trip for Families
While the Middle Fork Salmon gets all the publicity, we routinely run custom trips on the Main Salmon River because it is such a great family experience and has cleaner logistics for people flying into the area.
Both rivers have many of the same elements. Each trips provides beautiful clear hot springs, fantastic granite scenery and the opportunity to paddle inflatable kayaks. While the water quality is excellent on both, the Middle Fork is known for its fishing due to its cooler water temperatures.
In addition to warmer water, the Main Salmon has huge sandy beaches and doesn't get as cold at night as it does on the Middle Fork Salmon which launches high in the Rockies at over 5,600 feet. Outfitters also allow younger kids on the Main Salmon, 8 years-old versus 12 years-old on the Middle Fork.
The main reason we have the Salmon as runner-up to the Rogue is the trip length. We find 4-days on the Rogue is optimal for a first rafting experience. Most people still have a great time over 6-days but for some who haven't camped much before it can be a little intimidating. Some Salmon River rafting outfitters start and end trips in Boise, Idaho making for easy logistics.
Find Your Family Rafting Adventure…
*** Our service is free to you and paid for by our partner outfitters. We guarantee the same price as booking directly with the outfitter.
Desert Rafting
Lodore Canyon on the Green River provides a similar experience to the Rogue, in terms of the length of the trip, quality camping, being able to take kids 8 years old and fun playful rapids that can be run in inflatable kayaks. The biggest difference is that desert travel is a little tougher with the harsher plants of the desert and the heat making the trip a little less family friendly than the Rouge. Often we recommend this to families that have done the Rogue or families looking for a desert river experience like the Grand Canyon but more budget and family friendly.
High Adventure Trips
Grand Canyon
While motor outfitters will take 8 year-olds on their trips, the Rogue and Salmon are much better experiences for pre-teen kids. One of the best parts of Grand Canyon trips is all the side-hiking. Most kids 12 and under aren't that into hiking so as a parent you'll have to miss out on some hikes or push your kids pretty hard. The Grand Canyon is also a harsh place with many cacti and insects that bite, not ideal for younger kids. However, for children 14 and up, rafting the Grand Canyon is a great trip.
Tuolumne River
A classic 2-day trip near Yosemite, rafting the Tuolumne River is a great addition to a Yosemite vacation. While the river is run in one day, spending a night camped on the side of the river and having time to explore and swim in a small tributary, the Clavey River is worth the extra day. Outfitters will takes kids as young as 12, however it is best for children 14 or older.
Most companies have everyone paddling in a paddle raft or oar/paddle combination raft. While some 12 year-olds manage this well, most are just trying to hang on. Swimming a class IV rapid can be traumatic for anyone but the older kids seem to handle it much better, typically even better than the adults.
Cherry Creek/Tuolumne River
If you have a hard charging family full of strong swimmers and looking for serious adventure, check out Cherry Creek. This class V run requires passing a swim test. You can also get bumped from the trip if you are unable to hold your position in the raft and paddle your weight (paddle with enough force for how much you weight). Historically 3 to 5% of people decide not to go after the training and/or are told it isn't their day.
The Tuolumne River trip starts at the end of Cherry Creek, combining the two sections makes a nice two-day expedition with a night camping on the river. While the second day isn't nearly as challenging, most people enjoy a day of fun rapids after an intense day on Cherry Creek.
Additional Popular Family Whitewater Rafting Trips:
Ocoee River, Tennessee: The Ocoee River in eastern Tennessee is a popular destination for family whitewater rafting trips. The river is known for its Class III and IV rapids, offering an exciting adventure for families with older children.
Chattooga River, South Carolina and Georgia: The Chattooga River forms the border between South Carolina and Georgia and offers a range of whitewater rafting trips for families. The rapids range from Class II to IV with stunning views of the surrounding forests and mountains. The Chattooga River was also the filming location for the movie Deliverance.
Arkansas River, Colorado: The Arkansas River in Colorado offers a variety of whitewater rafting trips for families, including mild, intermediate, and advanced options. The river flows through scenic canyons and valleys, with a variety of rapid difficulty options. The Arkansas River is also home to abundant wildlife including bald eagles, bighorn sheep, and mule deer.
Tips for Planning a Family Whitewater Rafting Trip:
Choose a reputable rafting company. Do your research and choose a reputable rafting company that has experienced guides, quality equipment, and a good safety record. (We can help with this!)
Consider your family's skill level: Choose a trip that's appropriate for your family's skill level, experience, ages and comfort with water.
Pack appropriately: Make sure to bring appropriate clothing, including a swimsuit, water shoes, and sun protection.
Stay hydrated and nourished. Whitewater rafting can be physically demanding, show up with full water bottles and even though outfitters usually provides food and snacks it's best to bring some extra snack bars for your kids just in case.
Stay safe. Always wear a buckled life jacket and helmet (if required). Make sure to bring the recommended clothing to insure you're ready for the elements.
Appreciate the scenery: Take time to appreciate the beautiful scenery and wildlife. Whitewater rafting is not only a thrilling adventure but also an opportunity to connect with nature and enjoy the great outdoors.
Conclusion
Whitewater rafting trips provide a memorable all-inclusive adventure for families. Usually we see people at there best on a river trips away from the stresses of everyday life.
Whether you choose to embark on a guided trip down the Grand Canyon or a trip down a calmer river, with the right planning and preparation, your family can enjoy the beauty of nature and the excitement of whitewater rapids.
---
Start Planning Your Best Adventure
Dispatches from adventure tours around the world and tips for intrepid travelers. Read Our Blog
With over 100 different options, one question we often hear is "what is the best Grand Canyon rafting trip?" In this post we break down what makes for a quality white water rafting experience and discuss our favorite trip options for rafting the Colorado River within Grand Canyon National Park.
White water rafting offers a unique blend of adrenaline and natural beauty. Whether you're seeking a mild float or an extreme expedition, there's a river rafting trip for you. In this guide, we'll cover everything you need to know about rafting, including the different types of trips available, safety considerations, and popular destinations.
Keep Reading > Rapids and Wilderness: An Introduction to White Water Rafting