Best Whitewater Rafting and Camping
Trips in the United States
The United States is home to an amazing array of multi-day (overnight) rafting expeditions. Using our years of experiences guiding rafts around the world, the staff at Rivers & Oceans came up with our list of the top 10 best rafting and camping trips in the U.S. These white water rafting vacations are in no particular order, it was hard enough for us to agree on 10 trips.
Most of the whitewater rafting trips are all-inclusive packages between 4 to 6 days with a couple of options that can last two weeks (Colorado and Salmon Rivers). The main factors considered were their whitewater rapids, scenery, remoteness, access (from airports), camping, hiking, wildlife, fishing and water quality.
If you decide to book a trip through us the costs are guaranteed to be the same as if you booked directly with the outfitter.
Best Multi-day Rafting Trips in Oregon
1. The Rogue River – Southern Oregon
We love rafting the Rogue for its lush scenery, wildlife, and length at four days is the perfect amount of time. The Rogue is know for its wildlife viewing with birds of prey, turtles, otters and black bear. Kids enjoy the warm water for swimming, and hikes to stunning waterfalls and historical properties.
This is a great river for all ages, especially families that can enjoy the class III whitewater rafting and kid friendly camping. Older kids and adults can increase the level of adventure by paddling in a raft or inflatable kayaking. Getting to the meeting location is a three-hour drive south from Portland or a 6 hour drive from the Bay Area. There is also a local airport in Medford, Oregon.
2. The Illinois River – Southern Oregon
The Illinois River combines the best whitewater rafting, scenery, and solitude in the lower 48 states. It is such a secret due to only being run in the spring time. You will be blown away by the ruggedness of the canyon, endless waterfalls, water clarity, and the landscape of moss, flowers, and lush greenery surrounding the canyon.
After paddling class IV whitewater, each night's campsite provides a unique, scenic experience. Trips meet in Grants Pass, Oregon and are doable over a long weekend. Come ready to battle the elements of early spring in this remote and rarely rafted river of the coastal Cascade Range.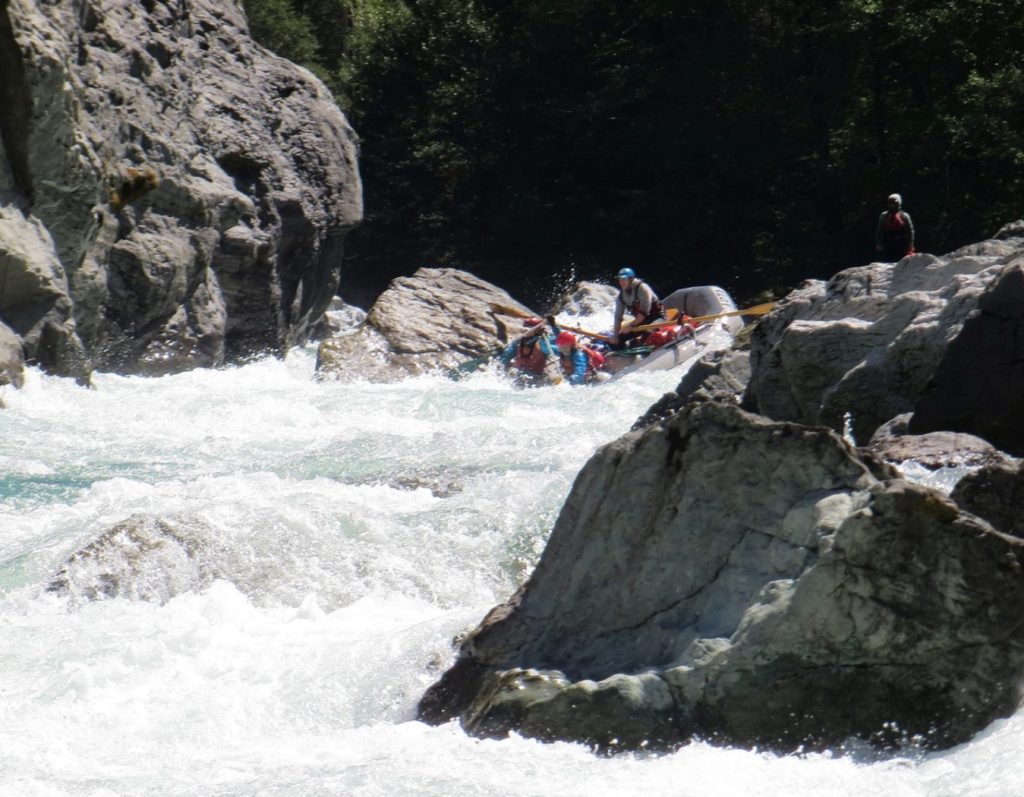 River News of Oregon
Led by successful dam removals such as the Elwa and White Salmon Rivers in Washington State, the largest dam removal in US history was announced on the Klamath River in southern Oregon. Previous removals have restored river ecosystems as well as saving taxpayer dollars due to the dams not producing power efficiently. Most exciting is the potential salmon recovery due to recovering hundreds of miles of free-flowing river.
Utah's Top Whitewater Rafting and Camping Tours
3. Gates of Lodore on the Green River – Northeastern Utah
The Green River is the longest river system in the Southwest, providing the majority of water in the Colorado River. Lodore Canyon is a stunning four-day rafting trip on the Green River through towering red rock and sandstone walls.
Within Dinosaur National Monument, this a wonderful option for families with fun technical class III rapids run in a choice of oar raft, paddle boat or inflatable kayak. Enjoy side hikes to waterfalls and scenic overlooks with additional time to relax in camp on nice sandy beaches. Trips meet in Vernal, Utah, an easy three hour drive from the Salt Lake City airport. (See our page about rafting the Green River through Lodore Canyon.)
Find Your Adventure…
Email
Questions? We'll get back to you with answers.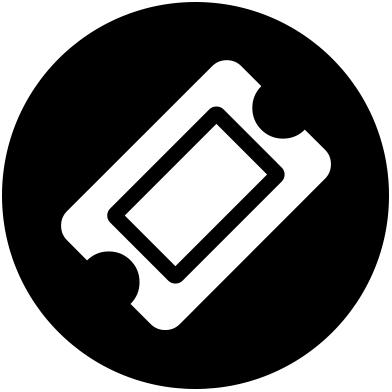 Find Your Trip
Request a trip search, we'll find tours meeting your criteria.
*** Our service is free to you and paid for by our partner outfitters. We guarantee the same price as booking directly with the outfitter.
4. Yampa River – Northwestern Colorado/Utah
As the last free flowing river in the Colorado River system, rafting the Yampa River is a wild and special vacation. Flowing through Dinosaur National Monument like the nearby Lodore, the Yampa sees exciting flows during spring runoff, particularly in the famous Warm Springs rapid. Run the rapids of the Yampa in paddle boats, oar rafts, and inflatable kayaks.
The campsites on the Yampa are stunning, with lush box elder trees, sandy beaches and surrounded by incredible sandstone walls. Side hikes are a daily optional activity up creeks and to scenic views. This trip meets in Vernal, Utah, giving visitors the option to explore more of Dinosaur National Monument. (Find out more about Yampa River rafting tours.)
River News in Utah
In November of 2020, a major pipeline to divert water to Colorado's Front Range cities (Denver), from Flaming Gorge Dam, which feeds into Lodore Canyon on the Green River and then into the Colorado River was denied by Utah state engineers. This is part of a decades long fight over Colorado River water. Read more in the Salt Lake City Tribune's article here.
Idaho's Best White Water Rafting and Camping Expeditions
5. The Salmon River – Central Idaho
With white sandy beach camping, warm water and towering canyon walls the Salmon River is a staff favorite at Rivers & Oceans. We say you feel like you are in the Cabo, Mexico version of Idaho! Rafting the Salmon is an absolutely perfect trip for all – it has whitewater that is just exciting enough for thrill seekers to paddle in a raft or inflatable kayak, and mellow enough to relax as your float in an oar raft through the largest wilderness in the lower 48 states, the Frank Church River of No Return.
Sometimes called the Grand Canyon of Idaho, it is the second deepest canyon in the lower 48 states. It's warm water, hot spring, historical sites and Native American pictographs make it one of the best six-day trips in the West. Together the Middle Fork and the Salmon River can be rafted 200 miles, making for an incredible 12-day expedition. (Read about the Salmon River of Idaho.)
6. The Middle Fork of the Salmon River – Central Idaho
The Middle Fork is one of the most classic whitewater trips in North America. Flowing south to north for 100 miles through the Franch Church River of No Return Wilderness, the terrain changes between high alpine forest, grassy desert and finally into Impassable Canyon which provides for dramatic camping and rafting. Besides it's many hot springs, side creeks and technical, rocky rapids run in oar rafts, paddle boats and inflatable kayaks, this river attracts fly fishers from all over the world.
The cold, clear water makes it a pristine habitat for many diverse fish species steelhead, cutthroat trout and also salmon. This vacation is best for the more adventurous in June and becomes a family trip in July and August. Trips meet and end in Stanley, Idaho. (See a video and more information on the Middle Fork of the Salmon.)
7. The Selway River – Western Montana/Northern Idaho
Last but not least, rafting the Selway River is another staff favorite at Rivers and Oceans. One of the most pristine whitewater experiences and trips in North America. With incredibly diverse and lush scenery in the Selway-Bitterroot Wilderness, class IV+ rapids run in oar and paddle rafts with world-class fishing, this river speaks for itself. Only one groups launches per day making this the ultimate wilderness adventure.
The river is typically run in five-days including a layover day (two nights camped at the same location) to give guests a day to explore the wilderness. Hike to a fire lookout tower, fly fish up Moose Creek or hang out in camp during the layover day. Trips meet in Missoula, Montana making this river one of the easiest to access. (Learn more about the exclusive Selway River.)
River News in Idaho
Salmon River water flows down into the Snake River and then through the Columbia River to the Pacific Ocean. These drainages are some of the most ecologically diverse and critical to species both inland and in the ocean. Idaho Rivers United created a community education program to help improve habitat conservation for wild fish that are critical to Native American communities, the Idaho economy and more.
Top Overnight Rafting Trip Packages in California
8. Tuolumne River – Yosemite, California
The Tuolumne is called the champagne of the Sierra due to it's light bubbly whitewater in a dramatic canyon. Over 18 miles the river has 16 named class IV rapids plus many more class II and II rapids creating some of the most consistent whitewater rafting of any river. Everyone typically paddles on these trips. What puts it on the top 10 list is the camping and exploring on two and three-day trips. The Clavey River and the North Fork of the Tuolumne both provide world-class swimming and relaxing. Plus the Tuolumne River's proximity to Yosemite makes it a much do for anyone visiting the park. (Check out the Sierra's Tuolumne River.)
9. Cherry Creek/Tuolumne Combo – Yosemite, California
Those that want more than the Tuolumne's class IV experience can head upstream to Cherry Creek, the most difficult white water rafting in the United States. Paddle 9 miles of class V whitewater on Cherry Creek and then proceed down the rapids of Tuolumne River to camp over two or three days. This package provides the most whitewater intense rafting trip to be had anywhere.
Be warned, to participate in this trip you have to pass a swim training and be fairly fit. Most should stick with the Tuolumne run which is more than enough whitewater for all but the most die-hard enthusiasts. (Find out if rafting Cherry Creek is right for you.)
Cherry Creek Rafting Video
Best Rafting and Camping Tours in Arizona (and potentially the world!)
10. Colorado River through Grand Canyon National Park – Northern Arizona
The Colorado River is unquestionably on everyone's list of best rafting and camping trips in the world! There is huge whitewater, amazing sandy beaches for camping, and incredible hiking to scenic vistas and lush grottos. The human history of the area is fascinating and the guides are typically well seasoned and knowledgeable. These trips run from overnight to 18-days. The question is which is the best trip and when to go. (Learn more about floating through Grand Canyon.)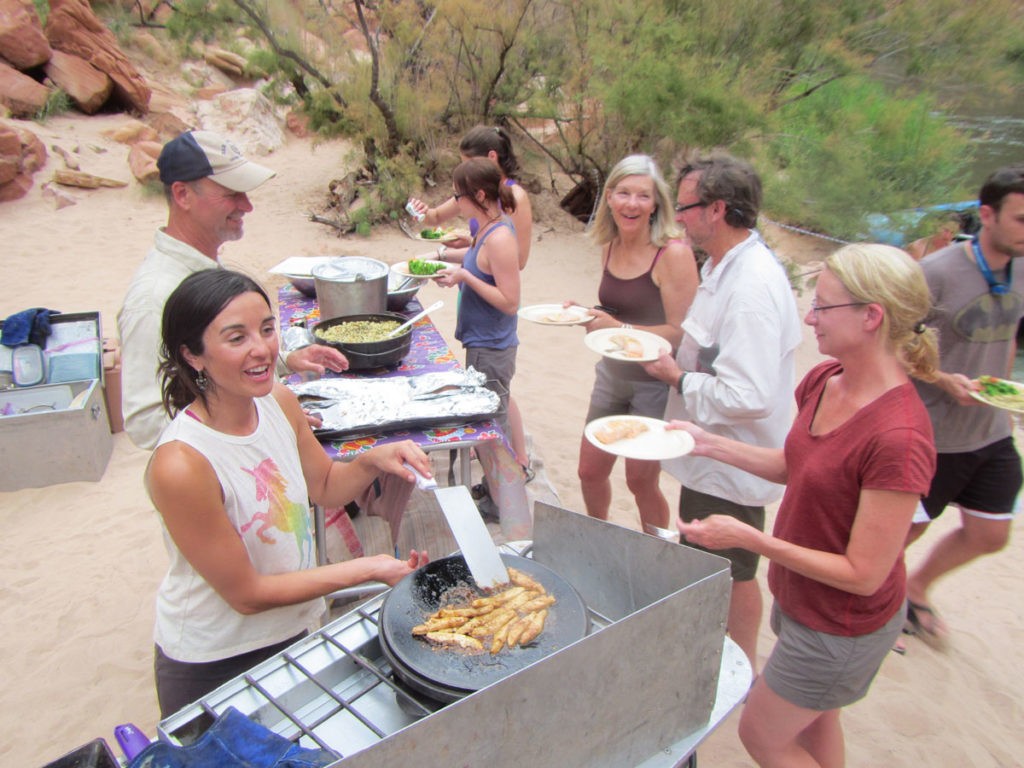 Concluding Thoughts
While all these vacation packages create an incredible experience between the rafting, camping, and scenery, the best white water rafting trip in the US is the one that meets your groups needs. Families with children from 8 to 13 will be best on the Gates of Lodore, Salmon, and Rogue Rivers. The other rivers are not as family friendly with longer river days, tougher conditions, or harder whitewater. Looking for something more remote and wild check out our Alaskan rafting trips.
If you have questions or just want to talk about rivers please give us a call or contact us by email! We'll point you to the best outfitter and destinations for you and your group. We guarantee the same price as working directly with the outfitters.
---
Start Planning Your Best Adventure
Dispatches from adventure tours around the world and tips for intrepid travelers. Read Our Blog
Interactive map of our favorite multi-day rafting trips in Alaska.
Alaska is home to some of the most breathtaking wilderness rafting rivers in the world, with varying degrees of challenge and adventure. In this article, we will discuss the top multi-day wilderness rafting rivers in Alaska, including the miles and days of each trip, whitewater, wildlife and how to access the rivers.
Keep Reading > Alaska Rafting: Remote Wilderness River Expeditions
If you're planning a trip to the Grand Canyon, an all-inclusive rafting trip might be just what you're looking for. Here's everything you need to know about these unforgettable adventures.