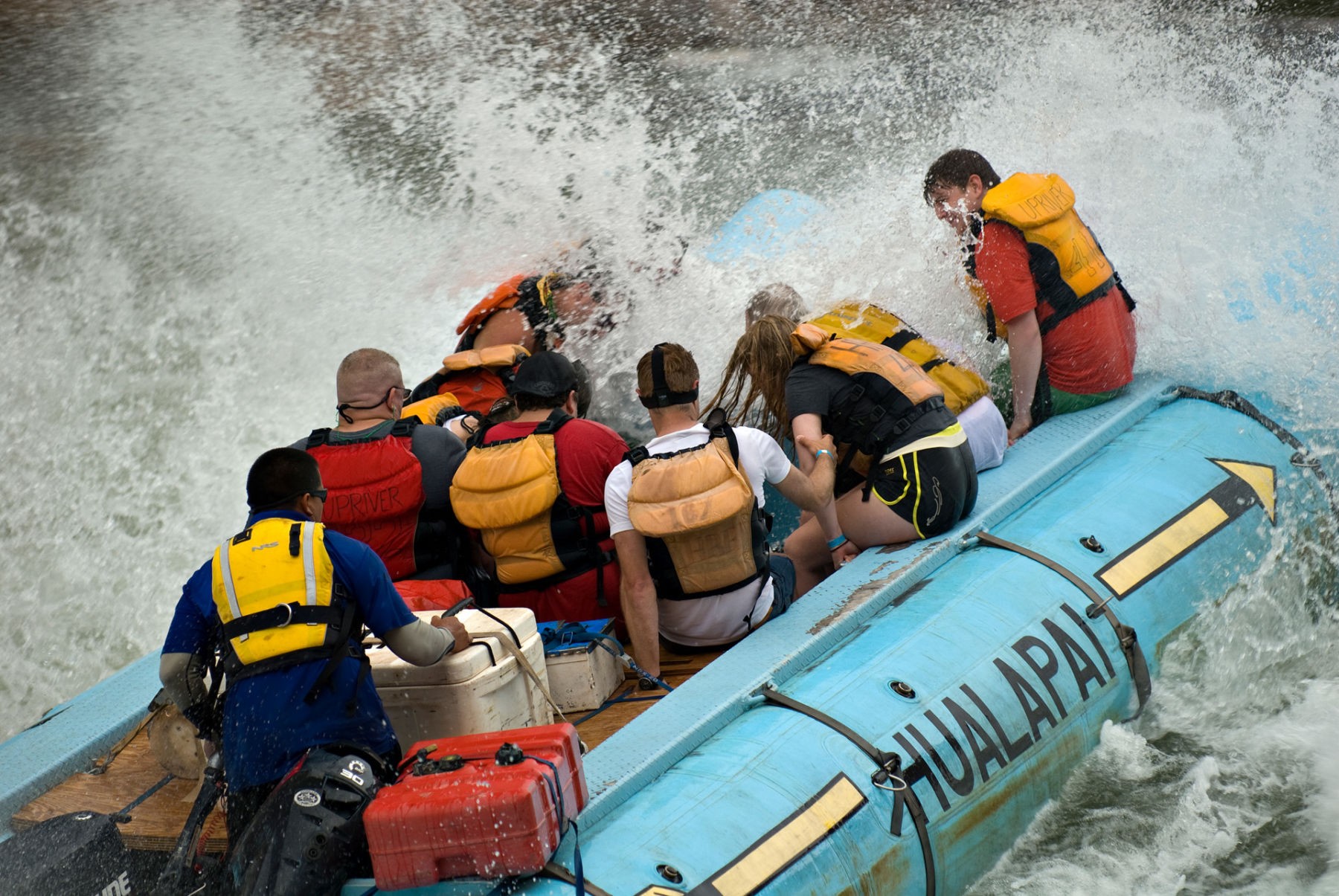 One Day
Grand Canyon Rafting Trips
Run Rapids, hike the falls, picnic lunch
$399 per person/ $359 per child
1-Day Whitewater Overview
The 1 Day Grand Canyon rafting trip is perfect for those who are short on time and want a taste of a true whitewater experience one mile deep in Grand Canyon. Run rapids on the Colorado River, hike to Travertine Falls, and eat lunch on the river – all in one day.
While on the river discover the rich traditions of the Hualapai people and raft downstream with a native guide. In addition, there is no requirement to hike in or out of the Grand Canyon.
The helicopter transport is currently not scheduled to run in 2023 and it will also not be possible to see the Skywalk on the day of your rafting trip. If you are looking for a rafting trips with a helicopter ride check out the 3-day Grand Canyon rafting trips. ***The helicopter portion of this trip is not available this year. Alternatively, you can do a separate helicopter tour of Grand Canyon which we find to be the best value for those interested in a helicopter experience.
Only One-Day Grand Canyon Rafting Trip
This is the only one day rafting trip in the Grand Canyon and the only one-day whitewater rafting trip in the area. There is a smooth water kayak float near Page, Arizona that starts and ends at Lees Ferry after floating through the end of Glen Canyon and the Black Canyon smooth water rafting trip below Lake Mead and near Las Vegas.
Longer Grand Canyon Rafting Tours
Those that are looking for more adventure can take a 2-day, 3-day or longer Grand Canyon rafting trip. Not sure which Grand Canyon trip is best for you, give us a call. We'll answer your questions and guide you through the process. Find your perfect Colorado river rafting trip.
Start Your Grand Canyon Adventure
1-Day Grand Canyon Rafting Trip Details
$399 per person (children $359)
Price Includes:  all taxes and fees, bus transportation from the Hualapai Lodge to the Colorado River and back, picnic lunch, beverages and snacks.
(Call us about military discounts)
Minimum Age: 8 years
Meeting Place: Hualapai Lodge in Peach Springs, AZ.

Meeting Time: 7:30 a.m.
Return Time: Between 5:30 – 7:30 p.m.

Rapids: Class II-III+ depending on water levels

River Miles: 54 miles (9 miles of rapids, 45 miles of flatwater)
1-Day Grand Canyon Rafting Tour Details
---
One Day Grand Canyon Rafting Reviews
4.8 out of 5 stars (based on 46 reviews)
An awesome experience for solo travelers and groups alike!
Exceptional Experience
My husband and I could not believe the kindness we received from Dale our guide. Our rapid ride experience through the Grand Canyon went way beyond our expectations. Also, Tom our bus driver was an amazing bus driver. I will never forget as long as I live the vacation I have ever had. I will return the gratitude by letting others know of River Runners. Thank you so much!
One Day Grand Canyon Rafting
You can check off another bucket list adventure! The one day trip was exciting and beautiful.
Grand Canyon Rafting Day Trip Video
Smooth Rafting Options Near Grand Canyon
While this is the only 1-day whitewater rafting trip within Grand Canyon National Park, outside the park there are other full or half-day smooth water kayak trips without rapids. These trip are just upstream of Grand Canyon in Glen Canyon. There is also a rafting trip in Black Canyon near Las Vegas.
Start Planning Your Best Adventure
Dispatches from adventure tours around the world and tips for intrepid travelers. Read Our Blog
One of our most commonly asked questions here at Rivers & Oceans is the inevitable "What is the bathroom situation when rafting the Grand Canyon?". While we wish it was just as simple as plumbing pipes and flushable toilets, we're here to talk about The Groover, which is the next best thing.  
One of the more infamous rapids of the Grand Canyon is Crystal Rapid. It ranks between 7-10 on the Grand Canyon rapid scale depending on how high the river is flowing. The rapid itself is created from Crystal Creek entering on river right and Slate Creek entering on river left at the same point on the Colorado river.
One of the first questions we ask people looking to raft the Grand Canyon is "what is your preferred craft?" In this post we break down how trips vary depending upon the type of craft you want ride down the Colorado River. The two main types of trips are motorized and non-motorized rafting trips.
Keep Reading > Motorized versus Non-Motorized Grand Canyon Rafting Trips